(Last Updated On: November 22, 2022)
Christmas time is just right around the corner. That means getting out the Santa costume for the kids, the Christmas party supplies, and the Christmas ornaments. In the hustle and bustle of getting ready for Christmas don't forget what matters the most – your family.
Christmas is great for families to spend time with one another at home. The great thing is that each family has its own rendition of a Christmas tradition. While some families bake and decorate Christmas cookies, others get to work together to decorate the tree.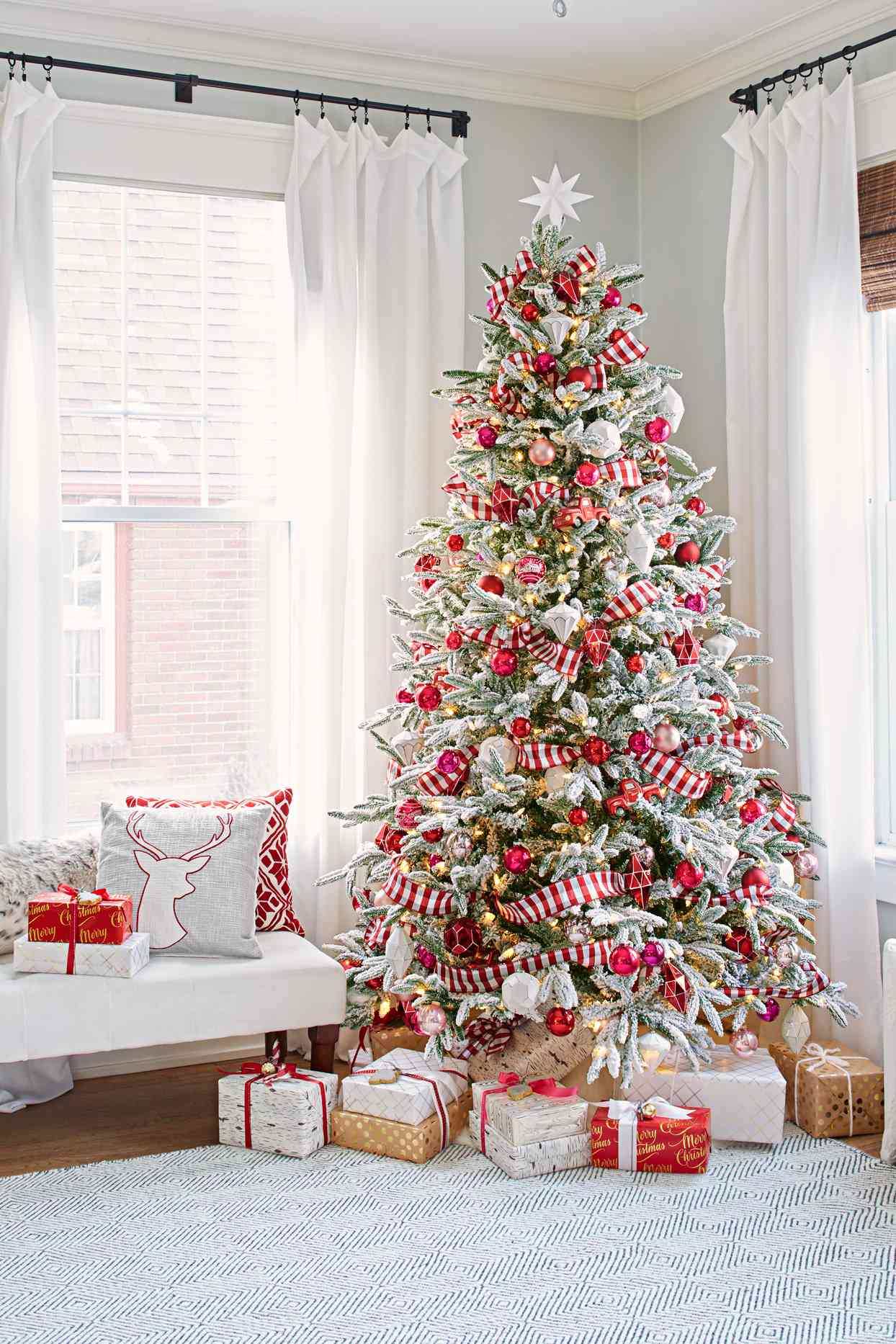 If you're a believer in sustainable products, such as biodegradable straws, and are looking for a fun Christmas activity that the whole family can have a ton of fun doing then allow us to help bring your two favorite worlds together.
Why not get your family and your Christmas straws together and check out how to make personalized Christmas straw ornaments? You'll surely have a blast doing it. Also, nothing makes you feel more proud than looking at all of the ornaments that all of you made once they're hung on the tree.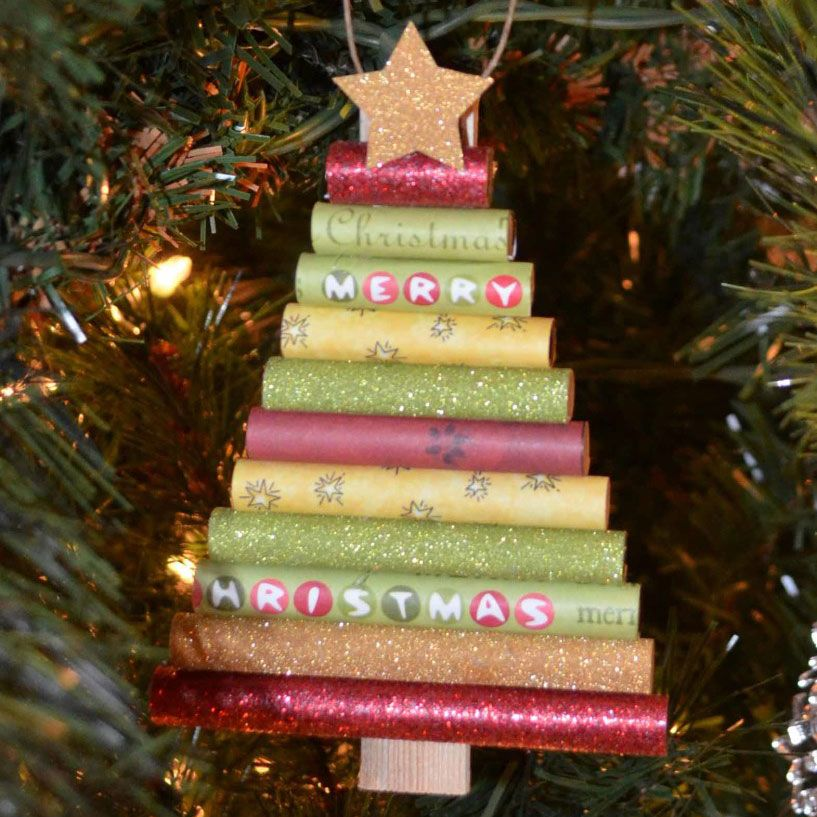 Making Christmas Straw Ornaments
Sure, all of us can just go out and purchase a bunch of Christmas ornaments. However, with daily life becoming so hectic, it is a good idea to slow down. Christmas is the perfect time when families get together and spend quality time with one another.
A great activity to partake in with your kids would be to make Christmas straw ornaments. To help you do so, here are three Christmas straw ornaments that you can make. They're quick, fun, and can be made using supplies you wouldn't have to go out of your way to get.
However, first, it is important to look at which type of straw would be the best one. So, let's look at the different types of straws and whether they would be suitable to make Christmas ornaments out of.
Using Straws to Make Christmas Straw Ornaments
There are a variety of straws that are available on the market today, such as plastic straws, paper straws, pasta straws, reed straws, sugar cane straws, bamboo straws, and more. While all of them function quite well when finding something to drink with, the same cannot be said for DIY projects.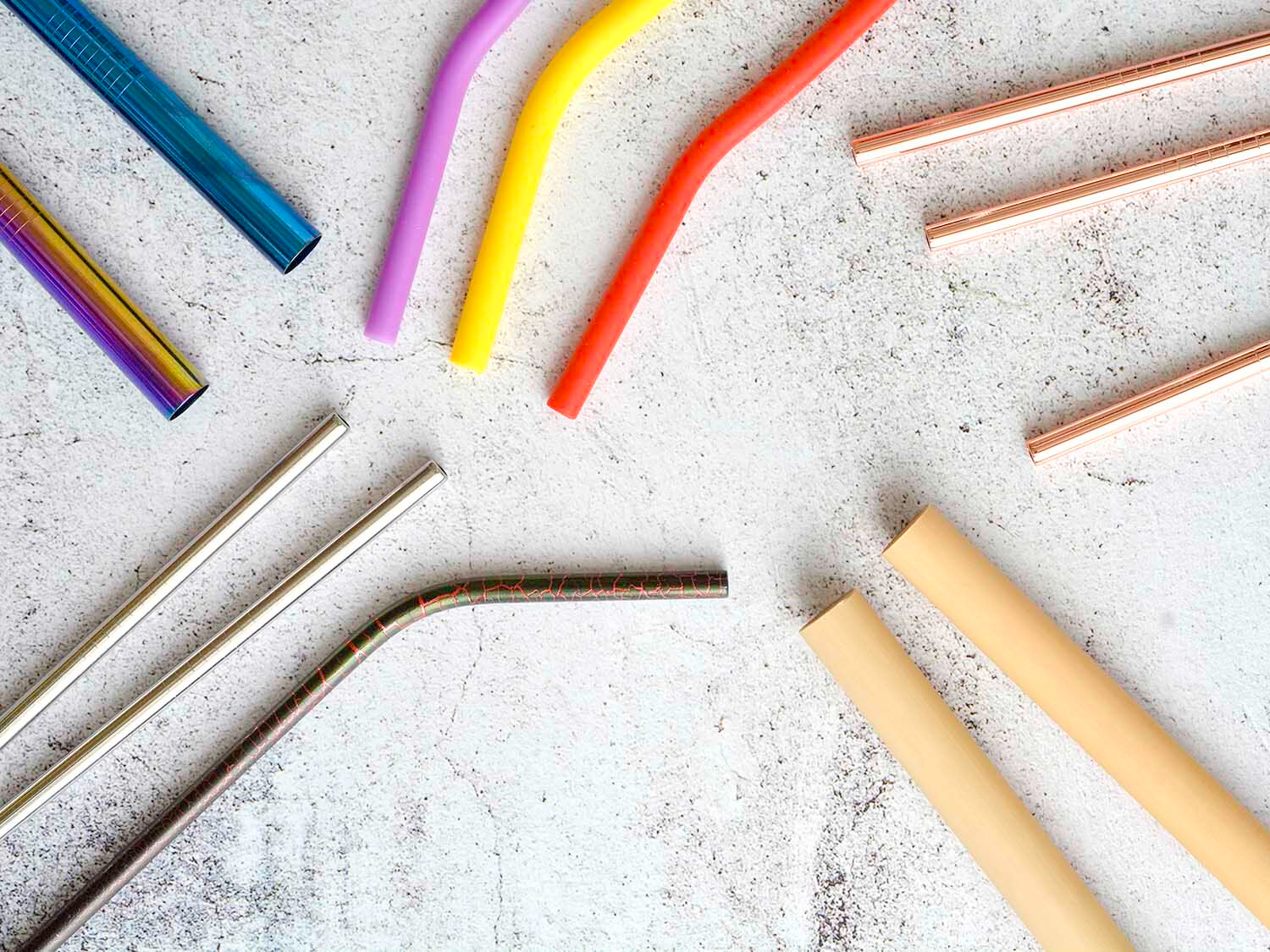 Before we begin making the ornaments, we must first identify which straw type is the best. To do so, it is important to identify the factors and properties of the best straw for Christmas straw ornaments would be.
Factors To Look At When Choosing Straws To Make Personalized Christmas Ornaments With
The Material of the Straw
The first factor to look at when finding the best straw for DIY Christmas ornaments is the materials of the straw itself. Of course, while making different Christmas ornaments, you would be required to cut through the straw, bend it, and glue it. Therefore, the straw material should be such that it is easily bendable and can be cut through.
There are two straws that best meet this requirement. Those two straws include paper straws and plastic straws. Both paper and plastic straws are soft enough that they can be easily bent. You can also easily cut through them using a scissor.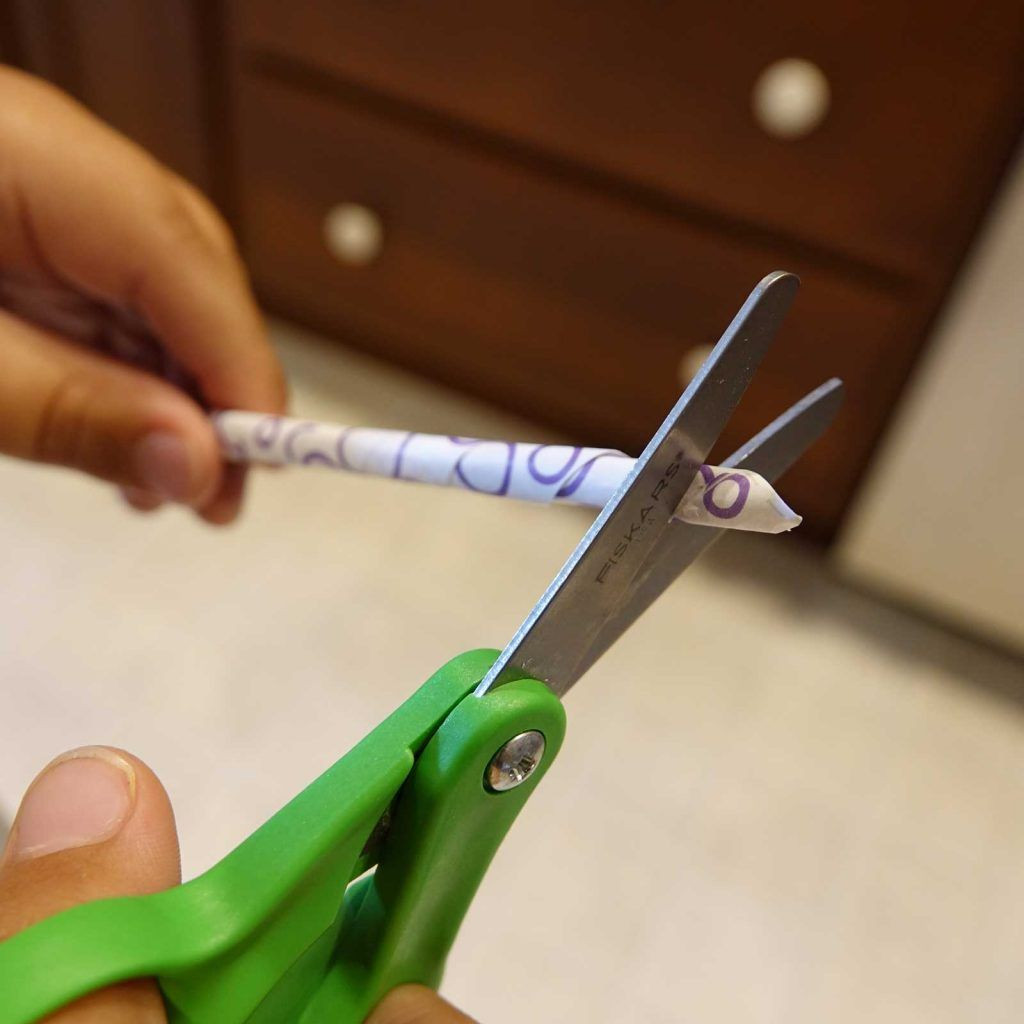 However, paper straws in this case have an edge over plastic straws. A paper straw is much safer when paired with hot glue – a tool that is used in most DIY projects. The hot glue that comes fresh out of the glue gun could possibly melt through the plastic straw.
Fun Designs
Sure, you could use a plain old straw to make the ornaments with. However, using straws that have fun designs and color patterns would help add pizazz and personality to the ornament. Paper straws are known to come in a wide variety of fun designs. 
You will even find Christmas-themed paper straws on the market. Apart from that, they also come in multi-colored designs. So, you can find ones that look like candy canes. Just think of how fun that would be.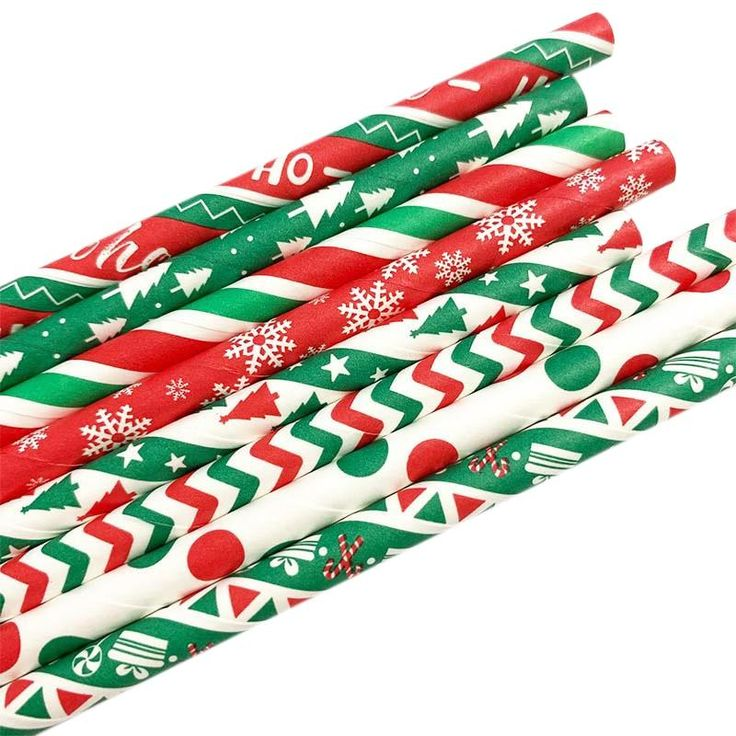 That is not all; if you have a certain design in mind, companies, such as Homestraw offer customization services for their straws. So, when you're getting together all of the supplies for your Christmas ornament project, you can order paper straws with a customized design.
Waste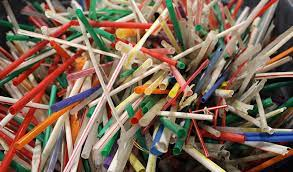 The third, and possibly the most important factor to look at from a wider lens, is the amount of waste and pollution that the straw would cause.
We all know how damaging plastic straws are to the environment. Plastic straws, take approximately 200 years just to decompose. Even then, they are known to break down into microplastics rather than biodegrading. During this 200-year time period, the chemicals from the plastic leach into the soil. 
On the other hand, paper straws do not create as much pollution as plastic straws do. While they are disposable, just like normal paper, you can easily recycle them. 
Best Straw To Use When Making Christmas Ornaments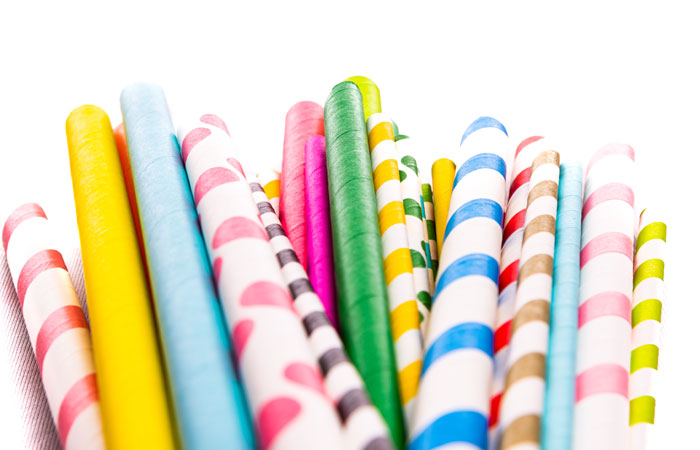 It is quite obvious that paper straws trump all other straws. They are environmentally friendly, easy to work with, and come in various fun designs. Therefore, paper straws are the best straws when it comes to making Christmas ornaments. 
In fact, you can apply this logic to any other DIY arts and crafts project that you may take on in the future. 
Christmas Wreath Ornaments Using Paper Straw
Tired of looking at the same Christmas wreath over and over again? Why not grab the kids, some paper Christmas straws, and get to work? This is a great ornament, which doesn't take a long time. The best part is that it is easy to make with supplies you can find in your house already!
A great idea for the Christmas wreath ornament would be to attach one as a decoration on the gifts you are gift wrapping for your friends or family. It's a great way to add a personalized touch to each gift. The Christmas wreath ornament can also be placed on your Christmas tree, of course.
Just like a normal wreath, you can also hang these Christmas wreath ornaments all over your house. A great place to hang them would be at your kid's room doors. So, if your kids helped make them, it would be a great way to honor the effort they put in. Not to mention that they're super cute and fun to look at.
Supplies Needed
Paper disposable straws (Ideally Christmas Themed)
String
Ribbons
Beads (Red, White, and Green)
Pipe cleaners
Scissors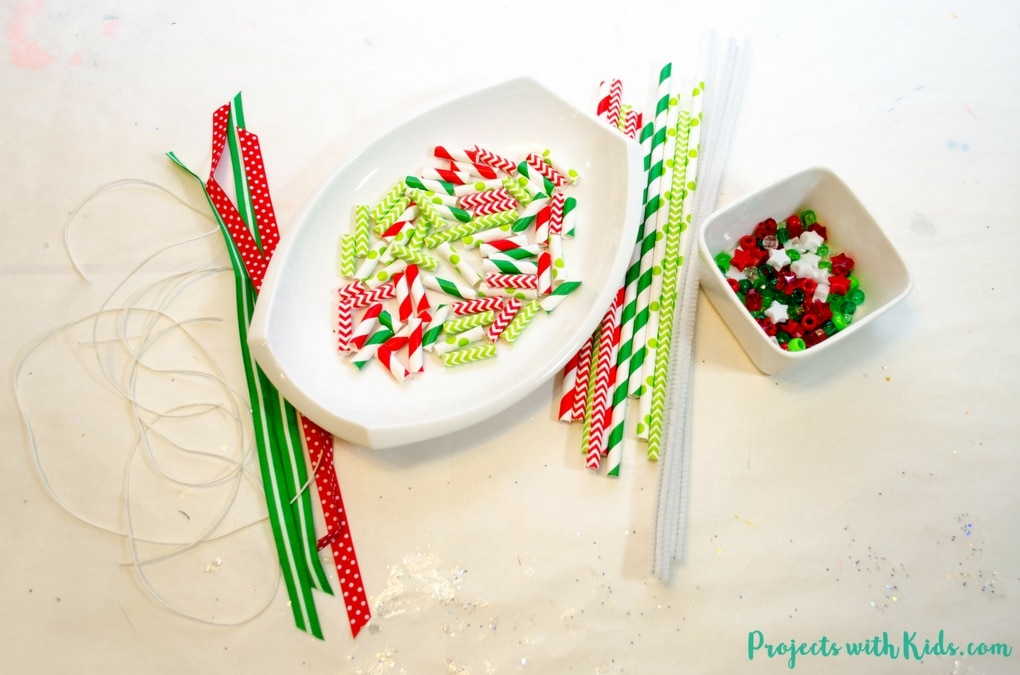 Instructions
Step 1 – Preparation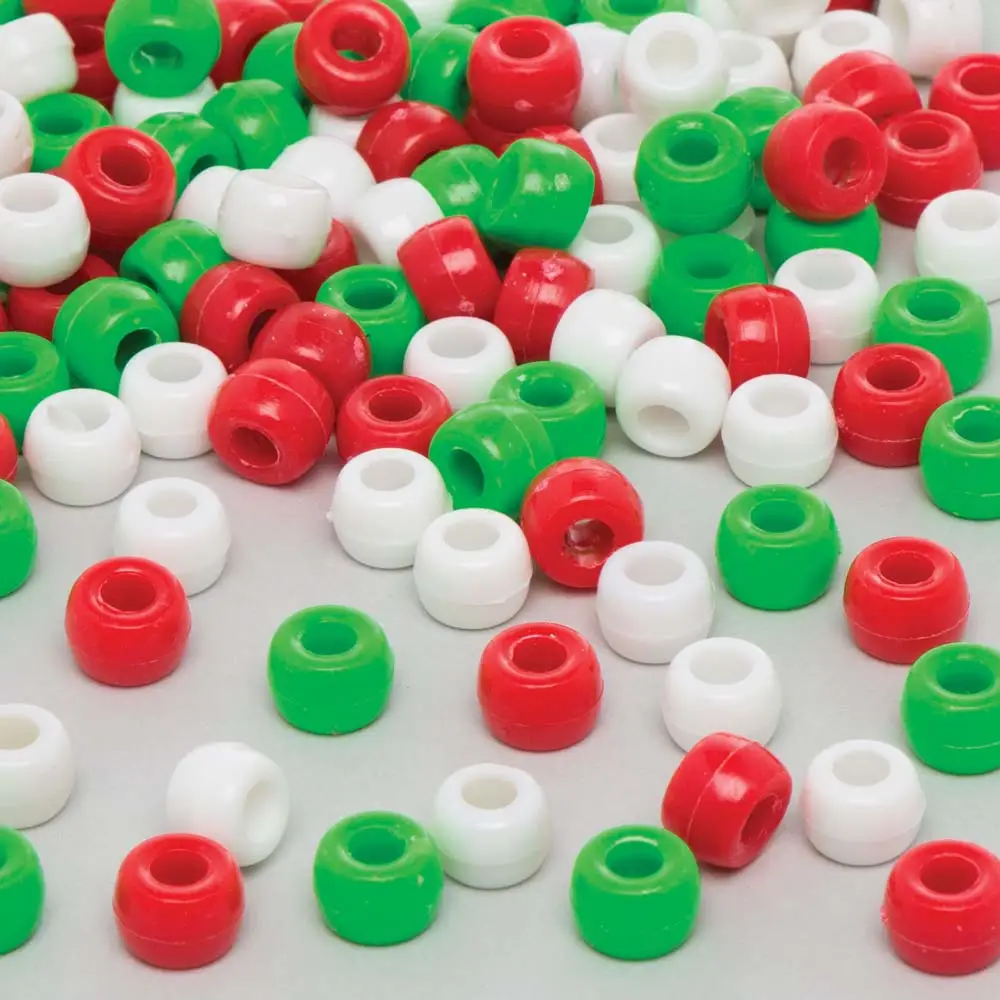 First things first, start off by getting everything ready. Set aside your pipe cleaners, a pack of paper straws, ribbons, and strings. Then grab your bundle of multi-colored beads and sort them out according to color. Make sure that you have enough paper disposable straws to make the amount of Christmas wreaths you're planning on making.
Once you've got everything out and sorted, it's time to prepare the straws. Grab your scissors and your paper straw. Then, cut each straw into eight equal pieces. An easy way to do so is by bending the straw into eight equal segments before making the cuts.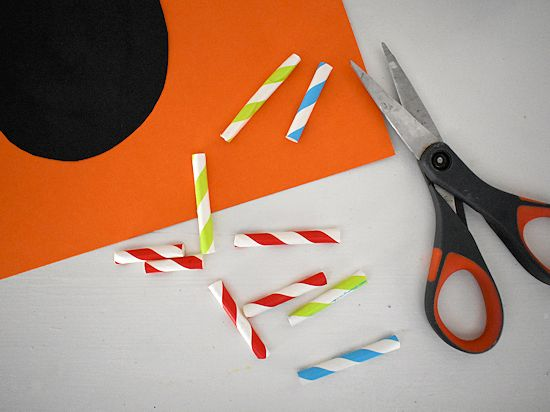 The last thing you'll have to prepare is your pipe cleaners. Since you will be stringing the beads inside the pipe cleaners, the straight shape could cause the beads to fall out on the other end. So, take hold of one end of the pipe cleaner and bend it.
Step 2 – String the beads and paper straw
Once you have prepared all of the supplies, it is time to get down to business. Start by stringing a bead into the pipe cleaner. Then, grab a piece of straw and push it in after the bead. Keep alternating between the bead and the straw till there is only a little space left at the top of the pipe cleaner.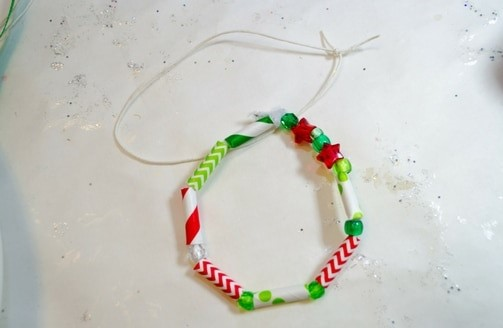 Be sure to leave enough space at the top. This way you will be able to twist the top end with the back end. The end shape of the pipe cleaner should be that of a circle.
Step 3 – Fasten the wreath with the string
Now, grab the string and tie it to itself to create a loop. Then, take the string and loop it with the wreath you created. This string will help you seamlessly hang the wreath ornament on the tree.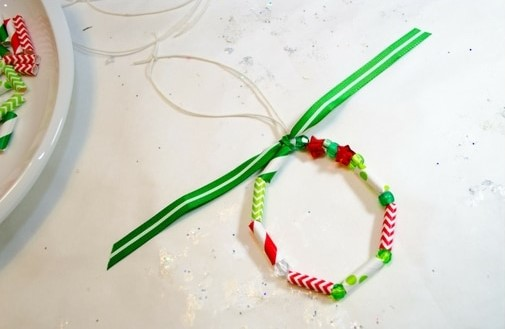 Step 4 – Final Touches
No wreath is complete without a ribbon. So, now it's time to put the final touches on your Christmas wreath ornament. Grab the ribbon and tie them together to make some pretty bows. Lastly, fasten them over the place where the string is looped with the wreath.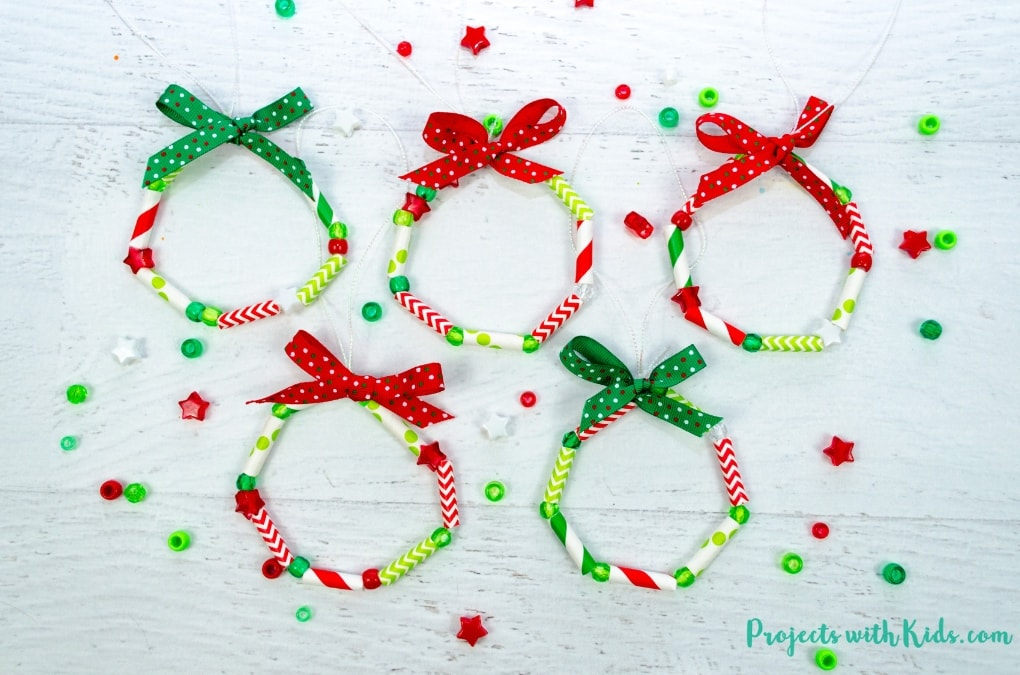 Christmas Snowflake Ornaments Using Paper Straws
With snow all around, it would be a disservice to not place any snowflake ornaments on your Christmas tree. This is a particularly fun and easy Christmas ornament to make. It consists of no complicated cuttings and knots. So, it's perfect for families with young children.
To make this snowflake ornament safer for children, you can even switch out the hot glue gun for a low temp glue gun. You and your children can choose to make a variety of colorful snowflake ornaments. If not, you can grab some multi-colored white and blue paper straws instead.
Supplies Needed
Multi-colored paper straws
Glue gun
Twine
Scissors
Instructions
Step 1 – Straw prep
Grab your paper straws along with your scissors. Then, cut each straw in half. For each Christmas ornament, you will need three pieces of paper straws. So, be sure to have enough paper straws prepared. A good way to do this would be to bend the straw in half before cutting them.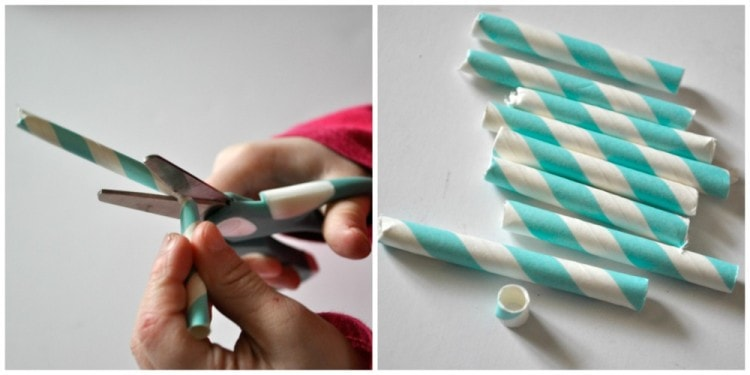 Step 2 – Create a snowflake edge
Once we have the four pieces of paper straws cut, it is now time to create a snowflake edge on each side. Using your scissors, cut sections around either edge of the straw. The end result of the edge should look like the picture below.

Step 3 – Create an X
You will now begin creating the snowflake shape using the paper straw. For this step, you will need two pieces of paper straws and your glue gun.
Start by pressing down the middle of each paper straw to flatten it. Flattening the middle of each straw will help you during the stacking process. Place glue in the middle of the straw and place the second straw on top of it at a 90-degree angle.
Step 4 – Complete the snowflake shape
Now, take another piece of paper straw and grab your glue gun. Glue this piece vertically on top of the base X shape you just created.
Now, all that is left is to complete the snowflake shape. On top of the vertically placed straw, glue a straw horizontally. This will create the snowflake shape.
Step 5 – Attach the twine
Now that we have the snowflake shape, we must attach the twine. The twine will allow us to hang the snowflake ornament onto the Christmas tree. Grab the twine and simply hot glue it onto the straw you placed vertically. This will help the snowflake hang straight once you put it onto the tree.
If you want, you can first create a loop using the twine before gluing it onto the straw. This will make hanging the straw much easier. Your snowflake ornaments made of paper straws are now ready!
Christmas Tree Ornaments Using Paper Straws
Love all things meta? Well then, this is the perfect Christmas ornament for you. What could be more meta than a tiny Christmas tree hanging on a large Christmas tree? Everyone is bound to fawn over this Christmas ornament that you can easily make at home.
Supplies Needed
Pack of paper straws
Glue gun
Star puncher
Glitter paper
Scissors
Ribbon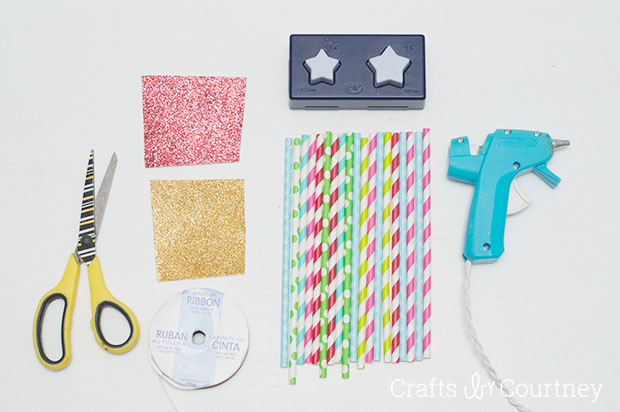 Instructions
Step 1 – Create the base of your Christmas tree
From your pack of paper straws, grab two paper straws. These straws will be used to create the base of your Christmas tree. Using your glue gun, add a thin layer of glue between the paper straws. Then, simply stick them together. Be sure to hold them until the two straws are secure together.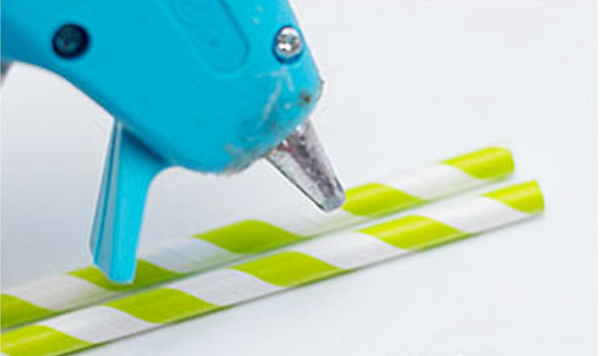 Step 2 – Putting the Christmas tree together
Now that we have our base, it's time to create the tree. Start by preparing the paper straws. Cut your straws in a way so that the next straw is slightly longer than the previous one. The first straw, that is, the straw at the top should have a length equivalent to the width of the tree base.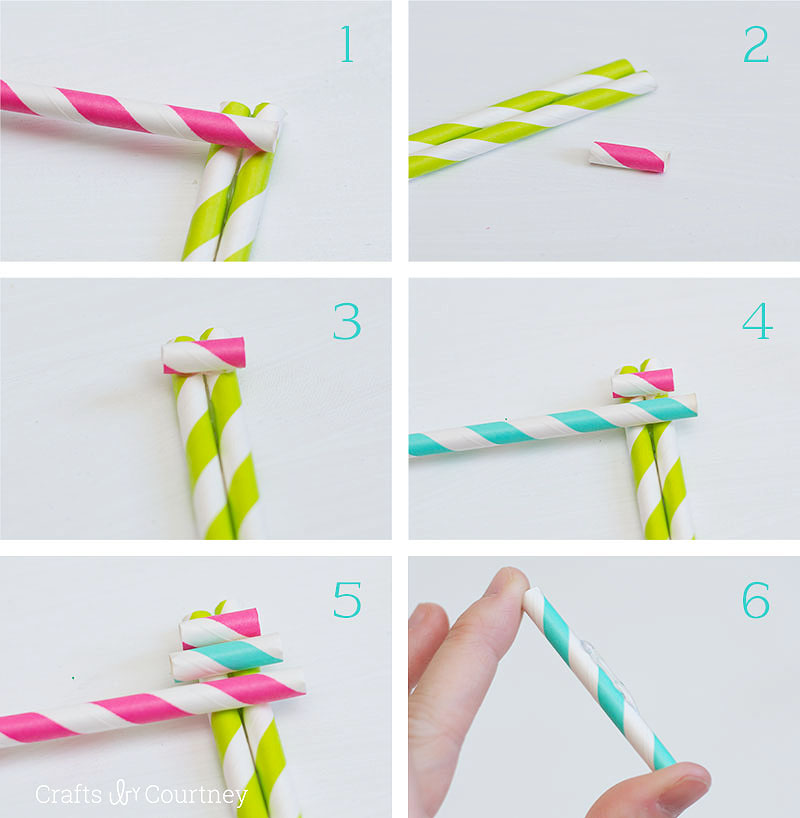 Around 10 straw pieces should be enough for each tree. Once you have your straws prepped and ready to go, grab your glue gun. Glue the ten pieces of paper straws onto the base in a cascading manner. Once you're done, you'll see that the straws have already created a Christmas tree shape.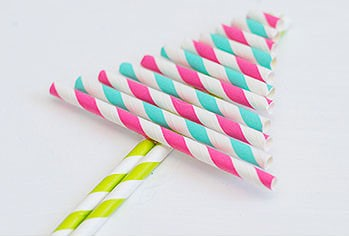 Step 3 – Trimming the trunk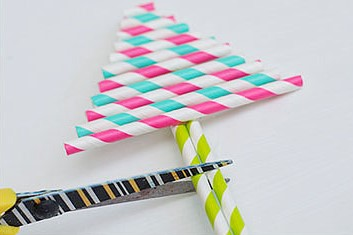 You may have noticed that there is a significant length of the paper straws left over once the straws have been glued on. It is important to make the tree look proportional. So, grab your scissors and cut off the excess straw length.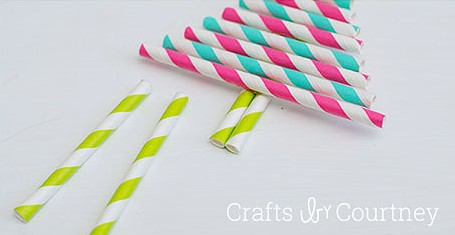 Step 4 – Create your star tree topper
Just like an actual Christmas tree is incomplete without a tree topper, this one is too. Now is the time to get out your glitter paper and your star puncher. Punch out one star for each Christmas tree that you have made. Next, get out your glue gun and stick the star right on top of the tree.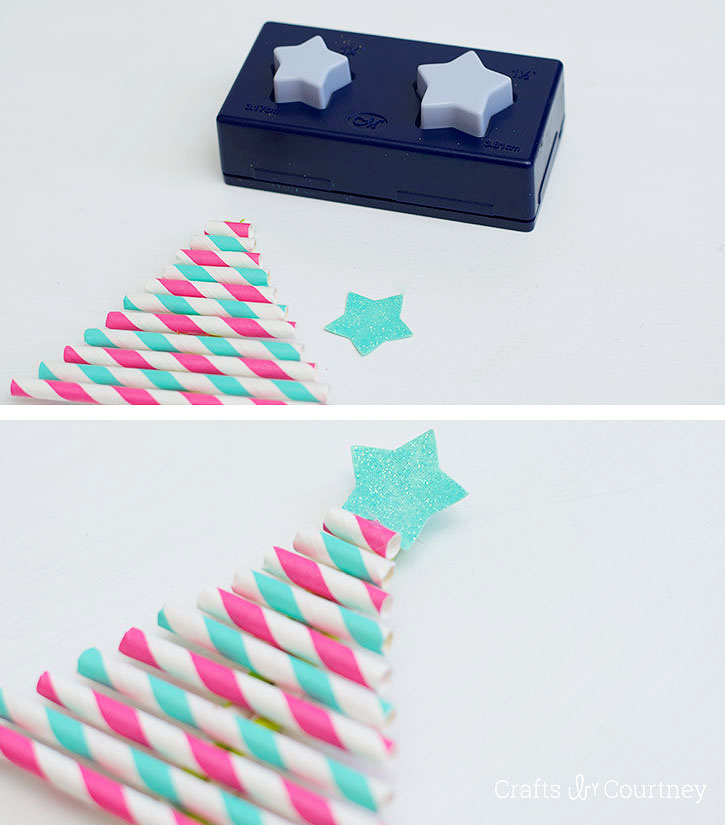 Step 5 – Attach the ribbon
It is time for the final touches. All that is left is to attach the ribbon so that you can hang the Christmas tree ornament. Simply hot glue the ribbon behind the star topper. Make sure to create a loop out of the ribbon first.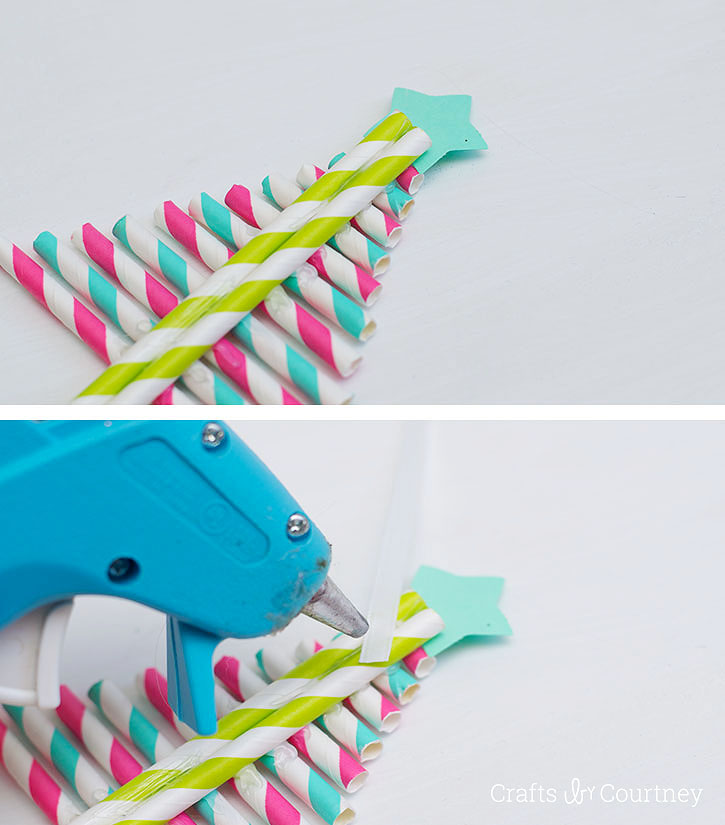 Conclusion
Making projects, such as Christmas straw ornaments a part of your holiday tradition is a great idea. These projects help bring families together at home in the most organic and loving way possible. 
They also help develop a lot of skills for young kids. So, if you are a teacher looking for some great Christmas-related activities to do with your students in class, these are the ones for you. In fact, you can also use these projects to teach them how to make mindful decisions that are better for the environment.
Projects, such as the ones we have described within this article, can be used to teach your kids how to be mindful of the decisions that they are making. While you could have utilized plastic straws for the project, you did not. This is a decision that you can be verbal about with your family and students. 
With the use of paper straws, you are choosing a straw type that is eco-friendly, and therefore, better for the environment. By doing so, you are being mindful of the planet and the environment. Of course, it also helps that paper straws are much more fun to look at because of their fun designs.